Deal Country Club – 7/18/2018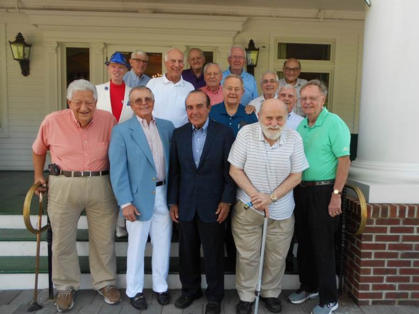 Once again, we had a fantastic luncheon in a new venue, The Deal Country Club. It had a nice ambience, the food was great, the service excellent, the tables were set so we could all talk to each other, and it was a lovely non-humid day. Our new schedule helps with the traffic from north to south Jersey and back again. We are now meeting on Wednesdays. As always there was great conversation, Prep memories especially stories of classmates who have gone to God ahead of us, lots of laughter, and good craic (fun). We had our photo taken on the front steps of the club. Check out our website, Prep'55. The password is your name. It presents an incredible history of our class and ours, as a class, is a history of incredible accomplishment since graduation.
Our next luncheon is at the Manasquan River Golf and Country Club on August 15th, at 12 Noon. Even if you have never come, please consider joining us. You will be welcomed as if you were always present and will fit right into the conversation. After all, you are our close spiritual brother.